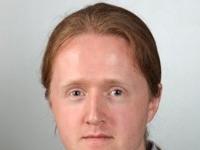 Éanna Kiely
Head, Clinical Data Stanards
UCB
---
This spotlight was featured in December 2016.
Éanna has served on the Submission Data Standards team, which develops SDTM, as well as on the CDASH team. Additionally, he  is an active member of the E3C.
In the second edition of our newly featured Volunteer Spotlight, CDISC would like to thank Éanna Keily for his years of dedication in the field of data standards.
Éanna has spent nearly 10 years working with CDISC standards, which is pretty much the entirety of his career. He still approaches his work as somebody that is at the height of their ascendance in terms of dedication and enthusiasm. He volunteers on the CDASH team and has previously given input on questionnaires to the SDTM team. Éanna has taken every CDISC exam and has his ears to all the CDISC grapevines as well as the PhUSE network where he also contributes.
Recently his family welcomed a baby girl, and we joked earlier this year about possible names and a potential Protocol son. But it was not to be, and happily his daughter has no CDISC inferences to her name, that we know of. Since then, Éanna has joined the CDISC UK User Network, a commitment perhaps surprising considering the recent family addition, but not for Éanna. He recently pitched to a PhUSE audience how CROs should push more of their staff into the CDISC teams to contribute because they will be able to influence the standards and advise their clients better. This wasn't the only time during that conference that Éanna was involved in pushing our work forward or defending it against even the faintest criticism.
It is a pleasure to be able to thank Éanna for his contributions. His dedication is matched by many for sure, and given time, we would love to put all volunteers under the spotlight. We know that dedicated volunteers do it for all the right reasons and not for publicity; that is what makes our work so rewarding.
Thank you Éanna, from CDISC and the UK Network, who are looking forward to working closely with you next year and beyond. You are everything the CDISC collaboration is about!