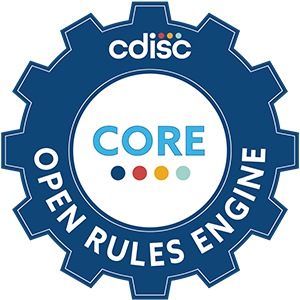 CDISC Conformance Rules are an integral part of the Foundational Standards and serve as the specific guidance to Industry for the correct implementation of the Standards in clinical studies. An emerging Industry best practice is to use Conformance Rules on an ongoing basis, throughout the study, to keep the data as close to submission ready as possible and to ensure quality in all data exchange scenarios.
Current CDISC Conformance Rules need to be expressed in a common specification to be loaded to the CDISC Library. In addition, an executable component must be developed for every Conformance Rule.
Project Goals and Objectives
The overall goal of the CORE Project is to deliver a governed set of unambiguous and executable Conformance Rules for each Foundational Standard, and to provide a minimum viable product of an open-source execution engine for the executable Rules.
CDISC is partnering with Microsoft to develop the CDISC Open Rules Engine (CORE), open-source software, which will execute machine-readable CDISC Conformance Rules retrieved from the CDISC Library. The global clinical research community will be able to leverage the free and open, Microsoft Azure-based CORE software to test study data for conformance to CDISC standards as well as to regulatory and sponsor-specific conformance rule sets.
The CORE Project objectives are to:
Ensure each standard has a set of unambiguous, executable Conformance Rules
Ensure consistency across Conformance Rule implementations
Expedite the availability of executable Conformance Rules for new Foundational Standards
Create executable Conformance Rules vetted by the CDISC standards development teams
Release the Rules under the CDISC Open Source Alliance (COSA)
Create an open-source engine that executes the Rules
Further Considerations
The executable rules are the next step in the evolution of the Conformance Rules that CDISC publishes with every standard
Executable Conformance Rules available via CORE should make it much easier for rule vendors to adapt these rules for use in their software
CORE will be released as open source under the MIT license; it will not be offered by CDISC as a commercial product or service
Existing rule vendors are free to contribute to, or use, the CORE software
Project Concept Diagram
The following diagram illustrates the concept of the CORE project, including the Conformance Rules, the executable form of the Rules, and the Rules' execution engine: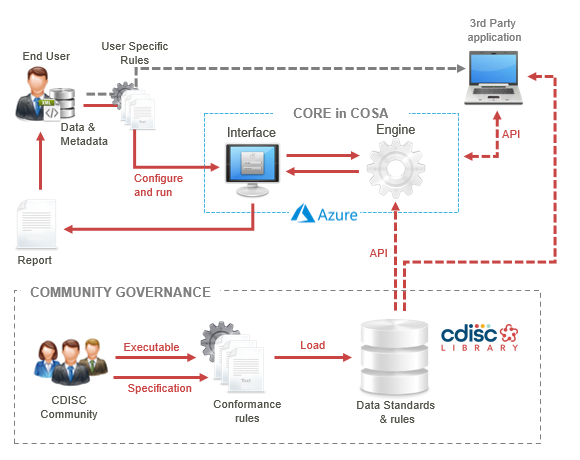 Stakeholders
CDISC will collaborate with Industry to develop a specification of the Rules.
Industry will collaborate with CDISC to create, govern, and maintain the Rules.
Microsoft will develop the Rules' execution engine and interface.
Teams
The following diagram identifies the project teams: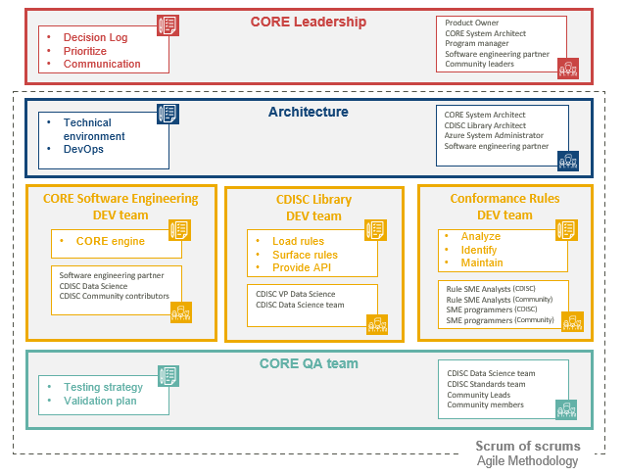 Minimum Viable Product Timeline
Initiation:  Q2 2021
Planning:   Q2 2021
Execution: Q3 2021 – Q1 2022
Closure:     Q1 2022
 
How to Participate
We invite your organization to participate in this exciting new project.
Please visit the CORE Project Participate page to learn more.
 
Additional Resources
The CORE Project seeks participants for the following teams:
Conformance Rules Development
Quality Assurance
Conformance Rules Development Team
Mission:

Develop the rules specification and the executable form of the rules
 

Work Areas:

Specification structure and content
Executable rules content
 

Roles and Experience:

Rule Developer

Experience developing conformance rules and/or using conformance rules to check clinical data
Strong knowledge of SDTM/SDTMIG
Experience with regulatory submissions
Quality Assurance Team
Mission:

Develop and execute validation plan for rules specification and executable form of rules
 

Work Areas:

Analysis and development of validation plan
Analysis and development of test data
Execution of validation plan

Execute CORE engine for executable rules and test data
Report and analyze test results
Coordinate with Software Engineering Dev team on test results
 

Roles and Experience:

Validation Lead

Experience developing computer system validation plans, leading teams during validation plan execution, and analyzing and reporting test results

Computer System Validation Specialist
Technical Writer
Security Engineer
Expected Engagement
Project Execution Period

Q3 2021 – Q1 2022 (about 9 months)
 

Expected FTE level
Meeting Cadence

Team meeting once or more per week, as determined by team
CORE Project Call-for-Participation Webinar
CDISC held a webinar 20 July 2021 to provide a deeper understanding of the CORE project, share the "ask" of participants and answer questions from attendees. We invite you to listen to the webinar recording to learn more.
Sign-up Instructions
If you would like participate in this exciting effort, sign up on the CDISC volunteer page and indicate CORE on the form as the Standards Development team. Please include which CORE team you would like to join in the box at the bottom of the page.
CDISC held a webinar 20 July 2021 to provide a deeper understanding of the CORE project, share the "ask" of participants and answer questions from attendees. We invite you to listen to the webinar recording to learn more.