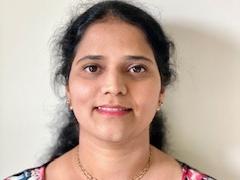 Smitha Karra
CDISC SDTM SME
Employee of Clinical Solutions Group an IQVIA business, on behalf of Gilead Sciences
---
June 2021 Volunteer Spotlight
Smitha Karra co-leads the CT Relationships team, which recently released the Controlled Terminology Relationships v1.0 for SDTM v1.4 and SDTMIG v3.2 . She also serves on the sub-team that develops SDTM QRS Supplements.
How long have you been volunteering at CDISC?
Six years.
What encouraged you to volunteer your time and expertise with CDISC?
Learning new developments at CDISC helps personal growth as well as to the company we are working at. Personally with my dad suffering from cancer, I want to contribute to drug development industry from my end. Thanks to CSG Inc and Gilead Sciences for encouraging me to volunteer time for CDISC.
How did you begin working in clinical research?
I did my Masters in 'Bio Informatics and Computational Biology' at the University of Idaho. My Master's thesis was associated with DNA sequencing and that is when I got introduced to drug research which inspired me to start my career in the clinical industry.
What did you want to be when you grew up?
I wanted to be a Computer Engineer.
You joined the CT Relationships team as a member when the project first started. What made you decide to become a co-lead?
All the work CDISC does has huge impact on industry and helping patients. After joining as a team member, I felt this is extremely beneficial to my day-to-day work with existing gaps in CTs and SDTM IGs. Now that the product is published, I am sure it will be helpful to many other users like me. I enjoyed a lot working with Erin Muhlbradt, Anthony Chow and the entire team. When I got the opportunity to work as co-lead, I pursued it. Special thanks to Erin and Anthony for their support.
Please provide a tip that someone would find helpful in working with CDISC Standards.
Working in developing CDISC standards is always a great opportunity to develop professionally, benefits the company you are working at as you will bring the latest developments to the team, and finally helps bringing solutions to the industry. I am grateful to CDISC for providing opportunity to contribute to the amazing work they are doing.