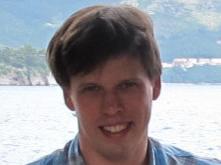 Dmitry Kosolov
Senior Principal Statistical Programmer
Parexel
---
This spotlight was featured in December 2019.
Dmitry serves as a volunteer on the Data Exchange Standards team and is a contributor to the team's projects - ODM v2.0 and Define-XML v2.1. He is an open source developer actively using CDISC Library to build tools that make it easier to implement the CDISC standards.
How long have you been volunteering at CDISC?
I have joined CDISC XML Tech team back in 2017.
What encouraged you to volunteer your time and expertise with CDISC?
After working with a standard for a long time you start getting ideas of how to improve it. It is great that CDISC provides a possibility to be heard. And after I joined the team, one of the things that inspires me the most is the atmosphere. People working on CDISC teams love what they do and are determined to develop better standards.
How did you begin working in clinical research?
I joined Parexel right after my graduation and did not know much about clinical research back then. After 12 years of work, I still learn something new every day.
What did you want to be when you grew up?
In my childhood, I wanted to achieve something, rather than to become someone. In the 5th grade I desperately wanted to come up with a new theorem so it can be added in our Geometry book.
As an open source developer, tell us about your interest in using CDISC Library. What do you hope get out of using CDISC Library and what potential benefits do you see it providing to industry?
Automation is a logical step after standardization and CDISC Library is an essential tool, which can help to make this step. CDISC Library is not simply a representation of the standards in a JSON format, which are accessible via API. CDISC Library is one big object, where everything is interconnected and I'm sure that in the future we will not be able to use standards to their full potential without CDISC Library.
Another great thing about CDISC is that it is open-source friendly. If you are developing an open-source project, you can easily get a CDISC Library account and integrate it in your project.
Please provide a tip that someone would find helpful in working with CDISC Standards.
Read the books and follow the instructions. It is as simple as that. There is nothing magical about it. With enough time and patience, you will definitely master any CDISC standard.