Letter from President and CEO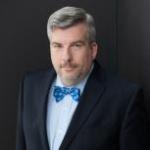 David R. Bobbitt, MSc, MBA
President and CEO, CDISC
---
Here we are at the end of the third quarter. Is anyone asking themselves "Where has the year gone?" It's evident that the nimble and mighty staff team at CDISC and our dedicated volunteers have been hard at work developing standards and innovating to ensure our standards remain relevant now and into the future.  As clinical research evolves, CDISC is evolving too and you will read about our various projects, along with the 2019 – 2022 Strategic Plan, which undergirds them.
I am particularly excited about the recent release of the CDISC Library Data Standards Browser. The response from our member community has been overwhelming positive; we look forward to its public unveiling and initial trainings at our US Interchange  16 – 17 October in San Diego. Are you registered to attend? I hope to see you there.
Earlier this week, I returned from our largest-ever Beijing Interchange. CDISC Board member Dr. Zhengqing Li of Merck provided a rousing keynote address in Chinese on the globalization of clinical trial research and pharmaceutical consumption. You can read more in the newsletter about the translation work of CDISC Chinese volunteers to generate COP-007-approved translations of six foundational standards documents into Mandarin Chinese.
In July, CDISC CSO Peter Van Reusel, several staff members, and I were in Tokyo for an exceptionally strong Japan Interchange. CDISC Board member Dr. Hiroshi Masumoto of Daiichi Sankyo, Peter, and I met with the new Chief Executive of PMDA Yasuhiro Fujiwara, MD, PhD. Dr. Fuijiwara is quite familiar with data standards and reiterated PMDA's support for CDISC. You can read more about the work of the J3C and Japan User Group in this newsletter.
One of the founders of CDISC, Bron Kisler, has been tapped for a leadership role at ISO TAG 215. You can read the press release here.
As we head into the last three months of the year, the word that keeps popping into my head is amazing. We are working on amazing projects in this amazing industry. It's no secret that I am amazed by our volunteers and staff. May I wish you an amazing final quarter of 2019? I hope you continue to feel the energy and achievement of this global community.