Letter from President and CEO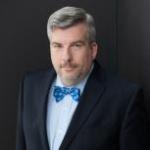 David R. Bobbitt, MSc, MBA
President and CEO, CDISC
---
Recently my spouse and I saw the live-movie version of Aladdin. It's a great story, updating the Disney cartoon classic. Besides the wonderful songs and dancing and the funny Genie character, the movie brings out powerful themes of friendship and service to others. When Aladdin rubs the magic lamp and gets his three wishes, the Genie advises him not to squander them on wealth, power, or fame.  Instead the Genie advises that Aladdin focus on more important values: right relationships and, even, true love. I won't give away the ending, but in the end Aladdin makes a key choice and helps a friend rather than pursue personal power. That makes all the difference, and Aladdin matures from boy to adult.
If someone ever writes a movie script of CDISC, I hope they point out the pivotal role that volunteers have made in our community at every critical juncture. CDISC volunteers so often work in unseen capacities.  I hope there are songs too, and some great dance numbers!
Standards volunteers bring their skills and knowledge to build standards of the highest quality. Earlier this month, some of our volunteers gathered in Silver Spring, Maryland, for the annual Working Group Meeting. We met new volunteers, celebrated some longtime volunteers, and addressed building even better standards from inception.
Virtually all of our volunteer teams are engaged in ambitious projects this year.  The SEND team, led by Bill Houser (Bristol Myers), continues its fruitful partnership with US FDA and is engaged in many projects for our standard that addresses non-clinical research.  SENDIG v3.1.1 PP, PC updates just finished Public Review; we anticipate publication this year. Conformance Rules v1.0 for SENDIG v3.0 is now out for Public Review. The ADaM team, led by Sandra Minjoe (PRA Health Sciences), is completing traceability examples and the eagerly anticipated ADaMIG v1.2 will be published later this year. These are significant projects for our analysis standard. The CDASH team, led by Mike Ward (Eli Lilly), has faithfully worked on CDASH v2.1, which is also out for Public Review; there are some significant updates to this standard for data collection.  The SDS team, led by Janet Reich (Amgen), has kicked off a sub-team, Biospecimens, led by Christine Connolly and Oliver Karch (Merck).  In addition, the ongoing work of our Controlled Terminology teams led by Erin Muhlbradt and Jordan Li (NCI-EVS) and several active TAUG projects show that CDISC is on the move.
Thanks to our European CDISC Coordinating Committee under the leadership of Joerg Dillert of Oracle, we've just completed another very successful Europe Interchange featuring a keynote speech on "FAIRifying" data. Feedback on content by attendees—which is usually quite positive—was even better than past years. Our Japanese CDISC Coordinating Committee (J3C), led by Hide Misawa (Pfizer), has been a powerhouse in translating CDISC standards and supporting documents into Japanese. This year, the J3C is developing an updated format for the Japan Interchange in July and featuring keynote speaker Dr. Mihoko Okada, a thought leader and ICH leader who is an expert in global health informatics. The Chinese CDISC Coordinating Committee under the leadership of Chairman Victor Wu (Beijing Data Science Express Consulting) is finalizing plans for our third China Interchange in Beijing in September, now the fastest growing CDISC event globally. I would also like to thank Zibao Zhang (dMed) who chairs the Asia-Pacific CDISC Coordinating Committee, which is helping define our strategy for growth in other key Asia-Pacific societies.
I am delighted to see that the Bay Area User Network recently held a well-attended, face-to-face meeting. Many thanks to all the volunteers involved in hosting, presenting and participating.
In this newsletter, you will hear more about CDISC 360 and the incredible commitment of talent our member companies have made to see this automation pilot become reality.  More active volunteers bringing their experiences and backgrounds to drive meaningful clinical research.
CDISC volunteers are essential, so recently we updated and formalized the ways we recruit and orient new volunteers. We are using new tools, including online videos to facilitate the onboarding of volunteers.
The women and men who volunteer at CDISC are a talented, driven group!  I cannot say thank you enough to our volunteers. If you haven't heard it from anyone else today: you are awesome! Thank you!
If you are reading this email, you are part of the CDISC community as well.
Our strength derives from the diverse perspectives and expertise of our community who are to me a lot like Aladdin at the end of the movie: they value personal connections and help one another. They make good choices and the world is better off because of the choices they make.
In Aladdin, the Genie sings "You ain't never had a friend like me." I suspect that there's ain't never been volunteers like these: it is a privilege every day to be part of this global community.