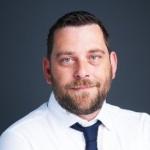 Peter Van Reusel
Chief Standards Officer, CDISC
---
The CDISC 360 project, introduced in the Q1 Newsletter, launched the week of 8 April 2019 with a Kick-off meeting and a Workstreams Briefing meeting for over 45 participants. CDISC 360 will run for 18 months and the first 10 agile sprints (3-4 weeks each) will cover the remainder of 2019.
Tremendous Interest in Participating
As of today, more than 60 talented individuals from 26 CDISC member companies are contributing active expertise to this important project. They are a global group from Asia, Europe, and North America. Their companies cover the spectrum we hoped, including pharmaceuticals, biotechs, CROs, technology firms, and solutions providers.
A series of collaboration tools have been provided to support workstream teams as members work remotely worldwide. These tools include shared environments for document content (Wiki), issue tracking (Jira), concept mapping (Cmap Cloud), instant messaging (Slack), and metadata management (CDISC Library). In addition, Microsoft, as a project participant, is providing its Azure platform to further support collaboration, including but not limited to support for data storage and script execution in multiple scripting languages as the project team executes the use cases.
FDA Participation
CDISC 360 leadership met with the FDA multiple times during project start-up, which culminated in an FDA decision to participate in CDISC 360! The project's standards scope, for which concept-based standards are being developed and tested in the use cases, has thus been expanded to include one or more standard FDA safety analysis endpoints for Diabetes. The goal of the FDA participation is to ensure that the concept-based standards model developed in the project will meet FDA reviewers' needs for safety analyses.
Activity in the Early Agile Sprints
Sprint 1 largely focused on the logistics of organizing the five workstream teams and providing access to and training for the collaboration tools. In Sprint 2, the focus began to shift to substantive tasks. We are now in Sprint 3 where the workstream teams are near-fully focused on substantive work.
The work in Sprint 3 is broad and covers development of (1) user stories, (2) initial concept-based standards, (3) initial scripts to load this content to and select and extract it from CDISC Library, (4) test study definitions and test data for use case execution.
An outreach to CDISC membership has also been made for contributed Diabetes data as part of Sprint 3.
What's Ahead?
The broad reach of Sprint 3 reflects the project's agile methodology that starts with an initial effort in every workstream, and then refines the product in successive sprints from learnings in every workstream. Sprint 3 will end in late June. Sprints 4-7 will then run between July and September and refine the concept-based standards model and storage of its content in CDISC Library. This refinement will be driven by the results of executing the use cases.
A project interim evaluation milestone is planned for early September 2019 in advance of a series of CDISC 360 presentations at the US Interchange  14 - 18-October 2019. Presentations are planned for the concept-based standards model, content from this model stored in CDISC Library, and the results of execution of the project use cases based on this content. In addition, a 360 workshop is being planned for 360 participants at the US Interchange.
If you are an employee of a CDISC Member organization and interested in participating in CDISC 360, please send a message to info@cdisc.org.